Picture this:
A room of talented people.
All those talented people gathered for an award show that is scripted and rehearsed for months before going live, and a huge budget to make the event special, engaging, and spectacular.
A huge television audience watching it all.
Content that is delivered by the best actors and actresses alive.
Still, mistakes happen!
The wrong movie title was read for an award, creating quite an awkward display.  Check out the clip here:
'Moonlight' wins Best Picture at Oscars after shocking 'La La Land' mix-up
The (not real) winners came to stage to deliver their speeches, and were shortly directed aside to correct the mistake…as shown here: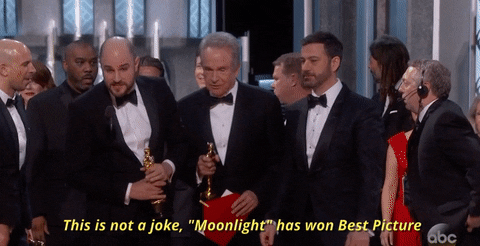 Don't give up on what you are meant to do!
I will hazard a guess that most of us will never have such a widely viewed public mistake as this!  Next year, I bet there will still be an Academy Award show on TV…they are not going to give up because of this!
Lessons from the Academy Awards
My take-away from this is that we should all continue to do the things that we decide to do.  We should prepare and execute the best we can, and do not be afraid of making a mistake!  Fear can keep you paralyzed and prevent you from doing what you were put on this earth to do!  Do not let fear guide your life…Go do what makes you breathe, and if you make a mistake along the way, nobody is perfect. You will improve for your next attempt!  People will at least know that you are out there trying to do something awesome!
Carpe Diem.